Alltracon provides experienced crane and rigging services for any size project.  Our millwrights and ironworkers  are certified and experienced to advise and manage your rigging project. 
Whether it's heavy machinery, construction materials, or a difficult location and a critical piece of equipment, our experienced team ensures precise and reliable delivery of every project.   From small lifts to large-scale projects, trust Alltracon for your crane service needs.  
Get Your Rigging Project Done Quickly with Reduced Risk, Downtime, and Labor costs
Careful Planning
We assess the weight and dimensions of the equipment, acceptable lifting points on the machine, terrain, overhead limitations, the safest and most efficient route for the move, and put together a plan that is ideal for your specific move.
Disassemble and Reassemble
We will review any drawings and schematics  that support your specific equipment and expertly disassemble and reassemble loads as needed for super heavy or oversized equipment hauls. We will ensure a safe transport and proper re-install.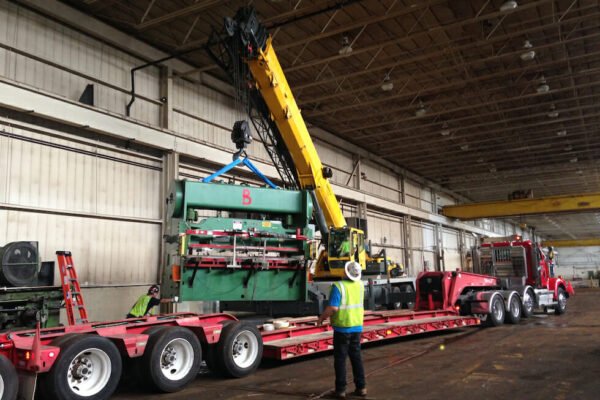 Experienced Crew
Our specialized crews, including millwright and ironworkers, work to minimize risks and manage your heavy equipment moving and transport project on time and in budget.
Above and beyond doesn't even come close to explaining my experience. During my companies' shut down these guys were invaluable. The staff was kind and efficient. I received prompt answers to every single inquiry I threw at them in a swift and friendly manner. I highly recommend this company to anyone needing Emergency Repair Services, Specialty Heavy Forklift Rental, or Equipment Storage. You will not disappointed.
Leah St Onge
President/ Owner
It was my first time in dealing with Alltracon and the experience was great! They did an amazing job at answering any questions I had from beginning to end on the project, was on time and did the job very efficiently. He even told us a way to set the hooks so he could unhook them by himself. Definitely will be using them again.Thanks guys, for the overall good experience! Alltracon will definitely get a call about our next project!
Micaiha Cross
President/ Owner
When you need a business that deals in the fields of industrial machine moving, rigging, installation, and leveling all in one company, you do not expect to get the quality of work that Alltracon provides all in place. Even with all of the services that they offer, and provided to me, I never expected the family friendly environment on top of such a vast variety of services. I could not have been more wrong. They truly do treat each customer like family, making sure that everything is done at an expert level, but with the speed and professionalism of a huge corporation, without the large corporate prices. I will never again use anyone except Alltracon. I didn't know that such customer service still existed. I really feel like part of their family.
Melanie Dillard
President/ Owner
Need to Move a Piece of critical equipment? or Planning to relocate your entire plant or facility?
Let us handle the stress of tight deadlines and help limit downtime on your project – big or small. As your single-source rigging and millwright service, our experienced team will work with you to provide a customized solution that checks all your boxes.
We can also handle trucking, storage, crating, rebuilds, and custom fabrication.
If you are ready to free up your time and get some peace of mind, reach out today for a hassle-free quote or site visit!
Subscribe To Our Newsletter!